var _gaq = _gaq || []; _gaq.push(['_setAccount', 'UA-27610389-1']); _gaq.push(['_trackPageview']);
(function() { var ga = document.createElement('script'); ga.type = 'text/javascript'; ga.async = true; ga.src = ('https:' == document.location.protocol ? 'https://ssl' : 'http://www') + '.google-analytics.com/ga.js'; var s = document.getElementsByTagName('script')[0]; s.parentNode.insertBefore(ga, s); })();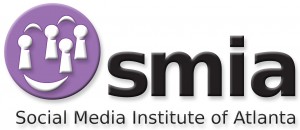 Session 2: January 23 – April 25, 2012 in Midtown
Social Media and Search Engine Marketing Course Description
The second session of the cutting-edge "Social Media and Search Engine Marketing" ('SMSEM') course will be offered January 23 – April 25, 2012 on Monday and Wednesday evenings from 6:45 – 8:30 PM. This course has been enhanced from the initial curriculum Paul Heller developed and taught at both Mercer's MBA program and Oglethorpe University (during 2011 spring and summer sessions). The course will again be conveniently held at one of the leading Atlanta Social Media/Digital Consulting firms offices, Engauge Digital (*), located in MIDTOWN at 1230 Peachtree (Promenade II, 22nd Floor Meeting Room with marvelous view). The Arts Center MARTA is two blocks away. Course cost is $795; $695 if payment received prior to January 6.
Social Media Platform Experience
The course uniquely combines "hands-on platform" experience (see below) with academically rich content and strategy. Platform experience and strategic application is gained through 12 Weekly Graded Mini-case Assignments that require 4-6 hours to complete in conjunction with take-home quizzes on periodic reading material. Course uses real-world, in-class case studies and Weekly Graded Min-case Assignments that enhance problem-solving skills to be more creative, strategic and resourceful for each topic covered. Course Summary. See an example of a Weekly Graded Assignment #1 – Blogging and WordPress. Two examples of these WordPress websites that Mercer MBA students created from their first week one assignment can be seen below (names, etc. changed for anonymity):
"Entering Endurance Sports"
"Passion For Fashion … Southern Style"
Boost Your Career In Social Media Marketing
In addition to being able to apply Social Media strategies to your business/organization, students and professionals excelling in this course will be terrific candidates for internships and/or full-time job positions in the highly demanded careers in SMSEM. See this recent Email Dialogue Paul had with Focus Brands/Moe's where a recent student of his at Oglethorpe is being offered a paid internship and they have already informed her that a permanent Social Media Manager position is opening up in December that they are hoping to transition her into. Paul created this opportunity for her based on his extensive network of SMSEM professionals.
Class Time Focus and Detailed Lecture Slides Provided
Detailed handouts of all lecture slides are furnished to allow class time to focus on applying Social Media and Search Engine concepts to real-world case studies. See Sample of Lecture Slides provided. Class time is an engaging combination of briefly lecturing on assigned readings, demonstrations of SMSEM platforms and applications, providing background for Weekly Graded Mini-Case Assignments, and reviewing student submissions of prior graded assignments to learn from each other. See Testimonials section of website for extensive testimonials from prior students, faculty and industry professionals on courses taught including: Marketing Management, Services Marketing, Corporate Finance, and Management Information Systems.
Atlanta and National Social Media Marketing Connections
To bring a real-world perspective to the classroom, besides Paul's hands-on SMSEM experience, he is constantly reaching out and collaborating with a multitude of industry gurus on these topics in Atlanta and nationally. Paul makes many of these contacts by attending insightful conferences and workshops that have included: Web 2.0 Expo in NYC in September 2010, Digital Atlanta in November 2010/2011, SoCon 11 in January, 2011 and Digital Summit Conference in May, 2011, Social Media Integration September, 2011. See Resume of Paul Heller
Social Media Marketing Textbooks Used and Instructor's Contact Information
Books used in this course are: "Goundswell", by Li and Bernoff; and "The Facebook Era", by Clara Shih.
Feel free to email or call Paul with questions regarding content, logistics in enrolling, or whatever.
(*) This course is being held at Engauge's offices but they are not sponsoring or endorsing this course.
Atlanta Social Media Marketing / SEO Course Wants to See YOU There!